William and I worked in the same social service agency in the 90s, we were both social workers but worked in different services. One day in the elevator at work, William gave me his card and told me to call him. I remember thinking, "This joker is crazy, I'm not calling him!"
About a month later he saw me in the elevator again and asked why I hadn't called him. I told him my dad told me not to call the guys. Shortly after, we had a joint affair, which was rather uncomfortable. We had to transport a child together from their home to welfare and this child actually asked if we were married, he said we were really good together.
That day, we ended up spending a few hours together in the car, and we got on well. We became friends and started going out for lunch. William didn't want a girlfriend and I didn't want a boyfriend, we agreed on that. It got serious when William decided he was going to Tennessee to get his master's degree. He broke up with me and I was ok with that but I said I would write and visited him for his birthday in November 1994. We spent the weekend together and he told me asked what I thought about moving to Tennessee. I was a single parent and still looking to move, so I sent my resume the day before I left and within 8 weeks I had a job and in early 1995 I moved to Tennessee.
We got engaged in June on my birthday and we were going to get married in 1996, but we moved on because I was pregnant. I wasn't supposed to be able to have any more children because after my first son, I was told I couldn't get pregnant again.
We returned to Virginia and got married on December 30, 1995. It was a beautiful candlelit ceremony with nearly 200 people in attendance. At the ceremony the pastor gave us a certificate which was not legally binding but he pointed to his desk and said he has to finish the paperwork and send it and we get our marriage license through the job. It was a Saturday, the next day was New Years Eve and we went to the Bahamas for our honeymoon.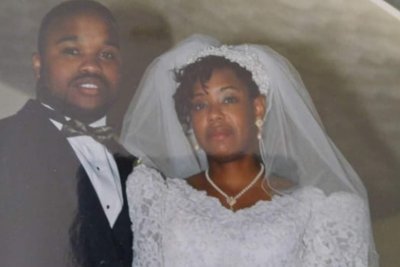 Shortly after, I had premature labor. I went to the hospital at maybe 26 weeks and started bleeding so I was given medicine to try to stop labor but it put me in a diabetic coma. The doctors told my husband that I was worse off than the baby and they could save the baby easier than me. He was asked to make a decision and he made the decision to save me.
My son survived and was born prematurely a few weeks later and we now have three sons: two boys together and my pre-wedding son. Our third son was born in 2000.
As in every marriage, we had ups and downs. I really think we were both good parents; that's what we strived to be. We both had the idea that we wanted our kids to have more than we had to come, so we invested a lot and probably not as much in each other.
One of the things we talked about before we got married was that divorce would never be an option for us, so it wasn't a word we had in our vocabulary. But we really had common issues like communication, stress, life, sick parents and trying to juggle it all. When you're in it, it's really hard to maneuver, so we got some tips. It's like servicing a car, it keeps communication flowing and it gives you new tools. Many people believe that the grass is greener on the other side, but it really isn't. Our faith, our communication, our belief that divorce is not an option, and counseling have helped us all over the years.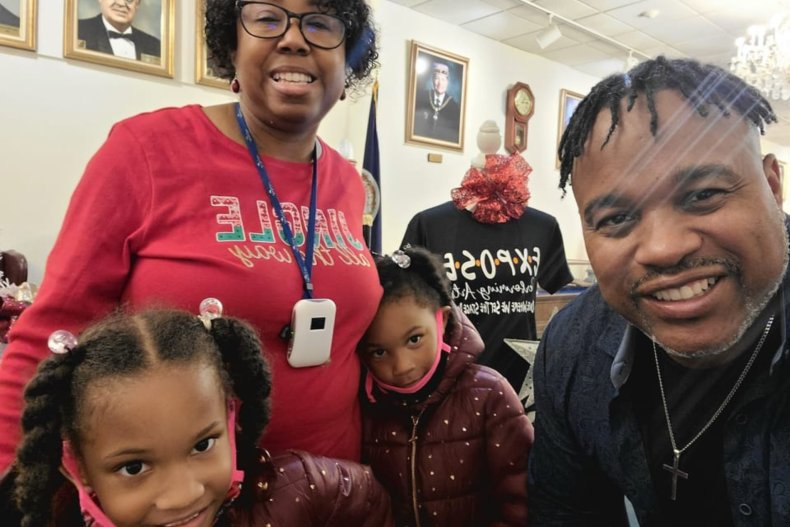 More recently, Real ID was introduced in Virginia which you must have on your driver's license in order to board domestic flights. It was time for me to renew my driver's license in 2021, so I went a week before my birthday to the Department of Motor Vehicles (DMV) with all my paperwork, but the woman there asked me where my license was of marriage.
Said I didn't have my marriage license as it never arrived and was told I could fill out a form and pay a small fee and they could get it for me from their system. I did, but she came back and said our marriage license didn't show up on their system. She then told me that the Ministry of Health would be able to send me my real marriage license and once I received it I could come back.
I called my husband immediately afterwards, told him what had happened and it looked like we weren't married. He burst out laughing and said, "So I'm free?"
We then informed our children and family and decided to wait as I was told they would send us the marriage license in the mail. My mother in law said the same thing happened to her and it happened.
We didn't get a letter from the Virginia Department of Health Vital Records Office until about the first week of December, they said they had searched from 1985 to 2005 and that there was no documentation of our marriage.
My husband was confused and I didn't know what to think. I couldn't believe that was true, someone had to have proof of our marriage. So we called some of our friends who are ordained ministers, and they explained to us that the pastor would have had a deadline to turn over our marriage license documents in the 90s.
The next day two of them started calling us, many people we knew were trying to help; suggesting they would provide affidavits that they were at the wedding, along with photos.
I had made a few calls to the church where we were married over the summer, but never reached them. In December I finally got hold of someone who told me he only had marriage records from 2000. We also checked to see if the courts had the original license application for marriage, which they did not have, because if, after 60 days, there is no marriage certificate filed, the marriage application is cancelled. Everywhere we turned was a dead end.
We knew that the previous December, the pastor who had married us had died. If this had not been the case, he would have had to pay a fine. I don't know if our first pastor or his secretary forgot to send in our first marriage license papers, I can't tell. But I know he wouldn't have done anything on purpose.
Lawyers then advised us to remarry on the same date as before, December 30, so at that time we had about a week to arrange a wedding. I wanted to keep it simple, so I sent invites via text and messenger and William's aunt helped me plan the wedding in three days.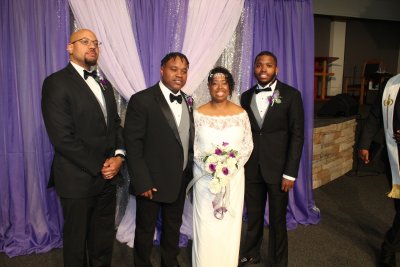 We had moved back to Newport, Virginia after about 10 or 11 years in Tennessee, but we hadn't had our second wedding at the same place as the first because we were attending a different church now. My bridesmaids were my twin granddaughters and my husband had our youngest son, named John after William's father, as a best man. William's father was his best man at our first wedding, but unfortunately he passed away in 2019. My eldest son walked me down the aisle and our family pastor, who baptized our children, was able to perform our wedding . The wedding, celebrated on December 30, 2021, was magnificent. We lit a unity candle for William's dad and my parents.
While we were at the altar, I realized that I didn't have the license with me. We whispered this to the pastor, and he smiled and continued the ceremony. Then we found out it wasn't in our truck either. So we didn't have a permit! The pastor said that our son, John, could come to our house to get it, and the pastor then took care of everything.
During the wedding, our pastor was laughing that it was our second marriage. He said a lot of people don't get married twice and it was a blessing that we were able to get married again. He called our second wedding: "William and Valerie: The Remix." We just received our marriage license in the mail in January. God bless us that nothing happened to either of us in the past 26 years, which means we should have found out that we weren't really married and then went through all the problems that came with it.
We'll have to get a lawyer to try and get our backdated marriage license because that affects things like taxes. But for now, we are married again.
Valerie Beverley lives in Newport, Virginia with her husband, William Beverley.
All opinions expressed in this article are those of the author.
As said to Jenny Harvard.